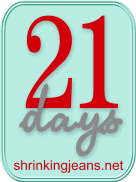 Ooooh, look at the pretty button!
They are starting a new challenge over at
The Sisterhood of the Shrinking Jeans
and I'm totally going to join it. It's only 21 days and I think it will really help to put some of the things that I
HAVEN'T been doing
SHOULD be doing into perspective.
The "rules" are simple enough. I just need to come up with a list of habits I'd like to form and then I need to put them into action. That doesn't sound so bad, does it? Do it with me... dooooooooo iiiiiiiiiiit.
I will be coming up with my list shortly and I'll probably post it tomorrow but I can already tell you one thing I've been skipping out on lately that I REALLY need to make a habit again... EATING BREAKFAST. For the last few weeks I have been completely skipping out on breakfast, and sometimes lunch, and that shit just needs to stop NOW.
So, I went grocery shopping and picked some stuff up... some very yummy stuff.
See?
Yes, my breakfast is a martini glass filled with Nonfat Greek Yogurt and sliced strawberries. Yes, I'm eating yogurt out of a martini glass... but it's the perfect portion AND it looks pretty, so why the hell not? Oh, and yes, that is my "don't yell at me, I'm eating my freaking breakfast" face.
Before I show my weigh-in results, I should mention that I haven't blogged my weight since April 1st, and at that point I weighed 158.6. Last Wednesday I DID weigh myself, I just didn't blog it, and I was at 155.8.
Ok, enough blabbing... here are my weigh-in results.
Starting weight from Dec. 30th, 2009: 174.4

Last weigh-in: 155.8
Today's weigh-in: 155.
Change: -0.8

Overall change: -19.4
Come back and see me tomorrow, I should have my list up by then!