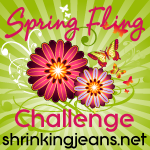 I'm about .2 pounds away from my original goal weight that I had obtained two weeks ago, and that's down from last week... so I'm happy.
Isn't it amazing that it took me one weekend to gain 2 pounds and 2 weeks to lose it?
That's a great thing to keep in mind when you're downing Tropical Sunrise Margaritas and loaded cheese fries at Chilis. By the way, did I mention how delicious that Tropical Sunrise Margarita was? No? It WAS. It might have even been worth the 2 pounds. Ok, maybe not :::::sigh:::::
Here are my stats:
Starting weight: 174.4
Current 7 week goal: 154

Last weigh-in: 165.8
Today's weigh-in: 164.6
Change: -1.2

Overall change: -9.8
I am so incredibly excited to get down into the 150's. If I can make it to 154 than I can say I lost 20 pounds. Another thing that excites me: I only have 5 pounds to go and I'll be right on the cusp of 160 and 159, that's definitely something to work towards.
By the way, if you have a Trader Joe's in your area, pick up some of their guilt free brownie mix. They're FAT FREE and you just add 2/3 cup of non-fat vanilla yogurt and stick them in the oven... I ate like 4 of them and didn't gain a pound. They were DELICIOUS and they completely cured my sweet tooth.
On a completely unrelated note... you know, since I have the worst ADD known to blogkind: See that button up there? :::::looks up to top of post:::::
The
Sisterhood of the Shrinking Jeans
is starting a new challenge, and I'm totally down for it. There will be plenty of fun on my blog for the next few weeks. I might even post pictures of me busting my ass for your amusement.
No promises... perverts.