They really are.
I've been working for the same guy, who has owned the same company, for most of my working life. A few years ago, he downloaded a program called Enotes. They are super convenient if you are one of those people, like me, who has post it notes ALL OVER the place. I mean everywhere. Once, I stood up from my desk and there was one stuck to the thigh of my jeans. Nice.
Enotes allowed me to have a post it note that was ON MY COMPUTER. It wasted less paper, and it was a lot harder to lose or forget about. But I digress...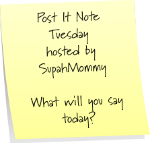 A lot of my blogging buddies have been doing Post It Note Tuesdays, hosted by Supah Mommy, and I think maybe it's time I do some Post It Notes of my own. We all know I have enough verbal vomit to spew at the masses :P.