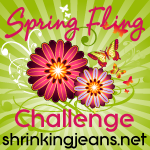 This is a day late, but if you had any idea what is going on in my life you would totally understand.
The sad thing is, this is my blog, you SHOULD know the deep-down-dirty aspects of my life... and you DO know a lot of them, but this has to do with work and I'm really trying to obey law# 1 of bloggy-commandments and that's NOT TO TALK ABOUT WORK. Suffice it to say that I am screwed people. Not literally, but figuratively speaking, I am totally bum-fucked screwed.
So, I'm under a lot of stress, and yesterday I could barely find the energy to post the giveaway winner but I didn't want to let ya'll down. I have to feel like I'm important, you see, and this blog sort of makes me feel that way.
So THANK YOU readers for making me feel like I have something I need to be accountable for. I'm serious. I think this blog helps my self esteem, which is really REALLY strange because I've never met most of you... but as bloggers, I think we all know the power of blog and internet buddies. It is much stronger than people who don't have blog/internet buddies can understand.
Alright, enough moping and rambling... here are my current stats:
Starting weight from Dec. 30th, 2009: 174.4
Current challenge goal: 154

Last weigh-in: 159.6
Today's weigh-in: 158.6
Change: -1.0

Overall change: -15.8