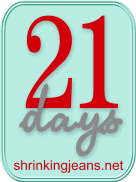 I'm going to be straight up with you all and I won't make excuses for myself.
I gained weight this week.
I FEEL like I gained weight too... it's not a good feeling. That's ok though, I've already given myself a nice kick in the ass and I plan to stop the b.s. I've been allowing myself to do (soda, cookies, you name it, I've been bad).
I might have just stayed the same, but I actually dislocated my knee and now my right leg is all swollen and I'm not supposed to do any more workouts until it's completely healed.* :::::sigh:::::
I suppose even the most upbeat of us have a bad week sometimes. Eh, who am I kidding? It was a GREAT week. I got a job, I pigged out, I drank lots of alceehawl (yum!) and now it's time to stop the crap.
I will be good this week, I promise. I'm super disappointed with myself... even though I enjoyed every second of being bad. Hey, at least I'm honest.
Here are my stats:
Starting weight from Dec. 30th, 2009: 174.4

Last weigh-in: 155
Today's weigh-in: 156.2
Change: +1.2

Overall change: -18.2
*I just realized that the gain might also be PARTIALLY caused by the swelling in my leg. I'm assuming that having a swollen extremity would probably add a half a pound or so.