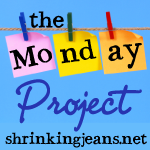 It's week five
or is it six? I'm not sure
of the challenge on
The Sisterhood of the Shrinking Jeans
and our assignment was to push ourselves out of our comfort zone and try something we've never tried before (pertaining to fitness and health, of course).
This was probably the most difficult project for me. I have a comfort zone and, let me tell you, I love that freaking thing. I've always followed the same *basic* principles when I work out: heavy on the cardio, light on the strength training, heavy on the belly dancing, VERY heavy on the yoga, eat well, sweat my ass off, voila!
Every time I tried to think of something that I hadn't done before, I realized that I HAD done it.
Let's go over the list, shall we?
Biggest Loser DVDs - Check
Yoga - Check
Dance - Check
Treadmill - Check
Gym - Check
Jogging - Check
Sitting on my ass in front of the tv, lifting a weight in one arm, eating pizza with the other, and crying because I can't figure out when I started getting SO DAMN FAT - CHECK!!!!!
Ok, so you can see above that I have tried many things... I was having problems coming up with something FREE
I'm one broke babe
and new.
It hit me while I was lying in bed next to my husband. I have a tendency to stare at him while he sleeps
because I am freaking CREEPY, people
because he is absolutely beautiful. You know how, as a woman, 60 thousand different thoughts run through your head in about 10 minutes? I went from thinking he was so gorgeous to thinking about the article I read once about how kissing burns 12 calories per 5 second episode and all of the sudden, my brain went "I wonder how many calories SEX burns?!"
That was it.
I sat straight up in bed and yelled "SEXERCISE!!!!!"
My husband, in turn, sat straight up in bed, startled and ready to beat some intruder's ass and yelled "WHAT HAPPENED?!"
I will spare you the many
AWESOME
details, but I weighed myself this morning...
and I am down another pound.
If you want to learn more about sexercise, visit this website:
eHow: How to Sexercise
.
You can Google and get some interesting results, but most of them are sick YouTube videos that made me cringe and look for something else.
So, this week I found that I can lose weight by getting laid.
I'm sorry, but unless you stick a cupcake and a martini in my face and hand me a DVD set of the last few seasons of Sex and the City, I don't think I could get any happier.
Take that, Olivia Newton John!