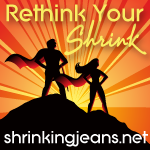 Well, this week didn't bring a monumental weight loss like the first weigh-in, it also wasn't as bad as the week where I gained two pounds back, it just sort of... "was."
Here are my current stats:
Starting weight: 174.4
7 week goal (I may change this to 8 week): 164.4

Last weigh-in: 167.4
Today's weigh-in: 166.6
Change: -.8

Overall change: -7.8
If I were to be completely honest, I would say that I lost a bit of motivation with my cardio workouts. I was experiencing some extreme tension in my neck and shoulder joints and it was sort of bringing me down.
I've always loved yoga, and in an effort to keep a positive and balanced outlook (and also to relieve some of that neck/shoulder tension), I joined
Yoga Journal
They have podcasts with a yoga instructor and I've been doing his Morning Wake Up Yoga and Evening Relaxation Yoga and it feels GREAT.
This week, I really plan to kick it up a notch... BAM! :P
I only have 2.2 pounds to go and I'll be at my goal for this challenge!! I would *love* to have that accomplished by next week and I KNOW I CAN DO IT.
I plan on running 5 minutes on the treadmill whenever I can, continuing my yoga (which actually makes me sweat in the morning, believe it or not), upping my cardio workouts and following the healthy eating path I've laid out for myself in the last few weeks.
Wish me luck, ladies and gents! Here's lookin' at next week's weigh in and hitting my goal!