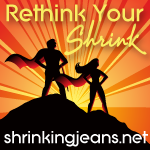 This has been an amazing week, a really REALLY amazing week. I finally figured out the secret to thinking positively and I'm running with it. There are times, of course, when I feel a little negativity slithering into my mind. You don't think a certain way for more than 5 years and then get rid of that thought process over-night. I'm also not a walking zombie farting rainbows and sunshine everywhere I go. I understand that bad things happen, and I can deal with them. But I'm finally learning to love and appreciate just how very lucky I am.
I will say that I feel better *right now* (and pretty consistently since Monday) than I have in a very long time.
I'm also happy to announce that I have lost THREE POUNDS since last Wednesday's Weigh-In.
Here are my new stats:
Starting weight: 174.4
7 week goal (I may change this to 8 week): 164.4

Last weigh-in: 174.4
Today's weigh-in: 171
Change: -3.4

Overall change: -3.4
I'm also very proud of myself for not having any soda (save a sip or two here and there from my husband's glass during dinner) in one whole week! I've cut out 99.9% of my soda intake and replaced it with green tea, which I'm gradually starting to seriously enjoy. I've also started eating breakfast every morning. I've done the Biggest Loser Cardio Max workout with my best friend twice in the last week and I've done yoga every other night. By the way, if you have a friend to work out with, it is so much nicer than doing it on your own. My best friend lives across the country, but we actually get on Skype and work out together (using the same DVD) on the webcam! How awesome is that?!