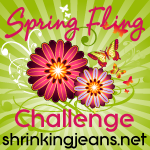 I felt like a fraud typing "Wednesday Weigh-In!!" in the title bar. It's not that I didn't weigh myself, because I did. Shit, I weigh myself every day. It's the "!!" that makes me feel like I'm lying to you all.
I do not feel "!!" at all. In fact, I feel like I'm about to barf.
I really hope that I don't barf. Barfing terrifies me more than anything. I think I'd honestly rather get a tooth pulled than barf. Ew. :( That being said, I have not thrown up in 10 years. I will deal with immense discomfort in order to keep the chunks from exiting my body. I'm talking guzzling water in the face of nausea and HOLDING THAT SHIT DOWN.
Alright. That's enough of my vomit talk.
I also feel sort of blah. Like I just don't give a shit about anything. It is a very weird feeling for me because I am usually so energetic. At times, I think I might be obnoxiously positive and happy.
Not at the moment.
I should be happy though... I lost some nice poundage this week.
Here are my stats:
Starting weight from Dec. 30th, 2009: 174.4
Current challenge goal: 154

Last weigh-in: 164.6
Today's weigh-in: 162.2
Change: -2.4

Overall change: -12.2
I want to be happy and say "YEEEEAY!!!!!"
But I sort of feel like looping my finger in the air and going "yeay."
Eh.
Wish me luck people, I hate being in funks like this.