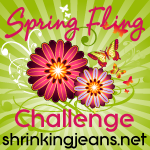 I am out of my funk... finally.
The strangest thing happened. I had a week filled with absolute misery and terrifying news. All of these bad things, they made me realize that I am so incredibly lucky. I'm alive, I have a loving husband, I can buy groceries, I'm not starving. I think it took death, other people getting sick, and circumstances I couldn't control or help with to get me to really sit back and see just how lucky I am, even if some of the situations in my life are not so great right now.
To say that the last week hasn't been stressful, mind blowing, and an absolute test of my will to remain sane would be a lie of epic proportion. Because I am just oh-so-efficient ::::insert eye roll here:::: I have made a list of the things that went wrong in the last 8 days:
1. My step mom's sister passed away. She was in her 40's, she was sitting on the couch having a discussion with her husband, she had an aneurysm and she died instantaneously. She was a wonderful woman with an amazing sense of humor. It was so freaking sad.
2. I didn't get paid for 3 weeks. I had almost no money.
3. Because I had no money, Time Warner shut off my phones, cable and internet. They did so with NO warning. They said they tried to call me, but they never left a voicemail. They never sent a letter. I understand that it's my responsibility to keep up with the bills, and I accept that I made a mistake by not paying them on time. But seriously, what company cuts off service without even leaving you a VOICEMAIL? Time Warner does. Because they blow. Hard.
4. My brother was hospitalized. He has autism. He started having seizures and they brought him to the hospital. After a lot of blood work and some scans, it looks like he was accidentally overmedicated by the nurse on duty at the home he lives in. This is the first time in 17 years that anything bad has happened to him while he was living there. It scares the shit out of me that this is something which *could* occur again in the future.
The world is a very scary place for a control freak. There are so few things that you can *actually* control. The above things (other than the Time Warner fiasco... I know I could have prevented that if I had been able to pay the bill) were all out of my control and they all made me feel helpless and afraid.
There is ONE thing that I can control in life, and that is my weight. I ate healthy, I worked out, I progressed to level 2 of the 30 Day Shred, I sweat my freaking ass off and it felt SO GOOD to have one little thing that I could grasp on to; SO GOOD to know that there was a positive in all the negative being thrown my way.
*I can control what I put into my body, and I can control how I treat my body.*
And I treated my body like it needed to have its ass kicked by Jillian Michaels.
And it paid off. It was a small loss, but it was more of a non scale victory. My pants are loose. I gained almost an entire new Spring wardrobe for free. I had all these clothes in bags to take to Goodwill because they didn't fit me. They were sitting in the closet and I had completely forgotten about them. I was trying to find something to wear the other day that actually *fit* me (everything is becoming very baggy) and the bag of clothes literally FELL onto my head... it hurt a little, but I'm glad it happened. All of my size 10 and 12 jeans and shorts from last year that I couldn't squeeze into were a perfect fit. I know, I know. I have a little guilt about not giving them to Goodwill. But, seriously people, I can't afford to go shopping for a new wardrobe right now, and I can't walk around with my pants falling down, so the skinny people over at Goodwill are going to have to wait for me to drop down to the next size.
Here are my current stats:
Starting weight from Dec. 30th, 2009: 174.4
Current challenge goal: 154

Last weigh-in: 163.2
Today's weigh-in: 162
Change: -1.2

Overall change: -12.4